Pheww, at last im running on the latest version of wordpress. Actually i should upgrade it a month ago. But due to my lack of skill in upgrading my wordpress i stick with the old one. yeah, im bit scare to update my wordpress like last time. Upgrading WP 2.2 to WP 2.3 is a nightmare for me. A lot of error coming until i need to temporary close my blog. It last about a couple of days until im willing to get help from my bro Xeroxaven aka Speakerz.net owner. Hehehe. Hopefully, its all done. Hurray.
But for WP 2.3.1, im willing to upgrade it by myself. But not by myself actually. Im using a special plugin which i got from brother Syamsulariff at his blog. I just viewing his lame blog archieve for that competition at OMG! this is what im looking for all the time.
"AN AUTOMATIC WORDPRESS UPGRADE PLUGINS !!!!"
Hehehe. What is so speacial about the plugins? Well, if you have the same problem like me (lack of self-confident in upgrading wp. haha) you can use this plugins. I swear, it is just so EASY even my liltle bro do this. It just need you to click and click and click. But make sure read the insturctions too. hehehe. Now, you dont need to pay someone if you need to upgrade your WP. Just install this plugins and when there's latest WP, you can upgrade it by yourself just like the PRO. Hihihi. Now that make blogging is so dem EASY!
Some screenshot that i got from syams blog: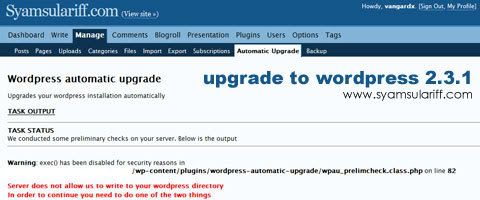 To install it,just follow this easy instructions:
1. Download the wordpress automatic upgrade plugin by techie-buzz
2. Extract the file and upload the wordpress automatic upgrade folder to your /wp-content/plugin directory
3. Activate the plugin
4. Then go to Manage > Automatic Upgrade
5. Follow the instruction
6. Congratulations! You are using the latest version of your wordpress.
You can read the frequently ask question about this plugin such as
1. What is WordPress Automatic Upgrade?
2. Why use this plugin?
3. Which version of the wordpress does it upgrade to?
4. What is the lowest version from which I can upgrade?
5. Why don't you provide a option for me to upload the version I want?
6. Will it remember the plugins that were active?
7. How much bandwidth does the plugin use?
8. How long will my files and db backups be available?
9. Where are the files and db backup stored?
10. Does wordpress automatic upgrade provide a rollback?
11. Installation Instructions
12. Usage Instructions
Please refer to the developer website at techie-buzz wpau FAQ
And people, im also finish overlayout-ing my FRIENDSTER. oyeah! a new linker. Now i've my new cross-over fs layout. take a look on it at my fs profiles. Do get the current/latest extension.js, extension.txt or extension.css linker [HERE] from bro Elliv(he's my Fs-Overlay/Crossover Gurus). Thx to AngellDeVille. Make sure you join the forum too. Happy FS tweaking. Hihihi. You can join the tutorial there too.
Some screenshots:

(click the thumnail img bcause the image is Huge)
If you know how to view the source, then you can get, steal and tweak my css code for your own overlay/krossover.