Nuffnang has become one of the famous Advertising company in Malaysia. The company has started at the end of May 2006 by TImothy Tiah ang Cheong Ming Seng. Eh wait, where did i got this information? Ofcourse from the speacial report on "How to make money with Nuffnang" by Noorizam Shah. Remember? I have also promote this e-book on my previous post, My first cheque from Nuffnang. The e-book is really awesome and mostly useful. Hey, you wish to get the cheque from Nuffnang too right? Read my review on this Make money with Nuffnang report.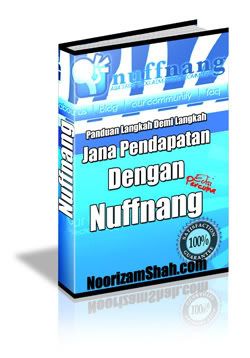 First of all, this e-book was written in Malay language. So, you need to know how to read in Malay first. Haha. There is no problem for this especially for people that live in Malaysia, Indonesia, Singapore & Brunei. Right? Hehe.
The first chapter from this free report on Make money with Nuffnang is about the introduction of the company. There is a brief description on how Nuffnang was startes, who is the owner and much more. Grab the e-book then you'll know it.
Then, did you have any trouble in applying for a Nuffnang account? You cant earn money with Nuffnang if you didn't have any account yet. But once again, this e-book save you. It show you step by step on "How to apply an account for Nuffnang" including along with graphic for you to follow up.
There you have it. Now you are one step closer to earn more income with Nuffnang. The next thing that Noorizam Shah gonna teach you in this e-book is about applying the Gliterrati Membership Status. A lot of blogger make mistake on this and make their Glitterrati membership become non-exclusive again. But yeah, there's tips on how to maintanig your Gliterrati status in this book too.
Now, did you know that many Nuffnang-ers has make mistake on chossing which ads campaign to be use? Nuffnang has 4 different types of ads campaign to be display on your blog. But, which one is the most suitable and flow more money to your Nuffnang account? Read this e-book and you will found out some of the careless mistake that you may did. Wonder eh why your Nuffnang income is not increasing?
There is still a lot of other tips and tricks for you to get a side cash from Nuffnang in this e-book. Noorizam also showed you how to put the ads code into your blog, writing a post, how to use the anylatics system, click-rating system, how to use innit and many more! There's also a sub-topic about does Nuffnang pay? in this e-book. Well, atleast they has pay me already. Hehe
So, what you waiting for? Download this speacial "How to make money with Nuffnang" report. Should i say this, it is FREE too! All you have to do is apply those technique that been teach in this e-book quickly. Just register your name and you e-mail address at the homepage of, NoorizamShah.com. YOu'll not just get the e-book, but you'll also get some more online tips from him delivered to your e-mail address. Cool eh?
NoorizamShah also giving a way an e-book about "How to get more traffic" to your blog to 50 person that review on this e-book. The contest ended this 30th JUly. Hey, traffic is really important if you want to earn more and more money with Nuffnang!