Hey, did you got your cheque my fellow nuffnangers? I've got mine already. I receive this cheque last Thursday, but didnt really have time to blogged about it. SO here it is. My first cheque from Nuffnang. Lmao.
It just a small sum of money that i got from Nuffnang. I started to use their service since 31st October last year. Yeah, it's hard to get a such value of money from them since i've been through a lot of trial and error with Nuffnang. Now i know which work the best. Hey, i was requested this cheque 09 April and just get this check this month. Wtf? It has been send after 3months? I've requested a ticket to the supporting team at they reply me:
Hi Syukri,

There seems to be a little misinformation on the Glitterati payout time. Do note that it takes 30 days for us to pay our Glitterati bloggers. But due to our company's protocol, we only compile our cheques at the end of the month. After that, the cheques will be sent to the banks for processing. The processing and delivery to your mailbox will take approximately another 3 weeks maximum. That being said, it would be wise to cash out near the end of the month as it will save you the waiting time till the end of the month. The additional time taken was on the bank's side and Nuffnang does pay 30 days upon cash out request at the end of each month.

Expect your cheque to arrive at your mailbox latest by the 3rd week of June. If it has not arrived by then, please do write in to us and we'll track on it and reissue another one if it's lost.
So, to get your cheque faster and accurate to your Gliterrati status, cash it out on the last week of the month or send a lot of request ticket to the support team. No really :p
Just after getting this payment from Nuffnang, i've doubled the money value that i have in the Nuffnang account. Wuhuu. Now much more faster i got RM 99++ left in the account. But i wont cashit out first. Wait until i can be like 5xmom that earn 10k from her Nufffnang. Haha.
Wuhuu, now what you you waiting for? Even a 15 years boy can get a cheque from them. You could have this cheque too. The key is work harder. If school activities and all that doesnt make me damn busy, i know i can make more like others too. Huhu.
Carving for any tips? All i can say is drive a lot of traffic to your blog. Do whatever you can to drive traffic to your blog. No matter white hat, gray hat or even black hat. The darker the better. No really. Haha. And another thing to make you success with Nuffnang is to apply membership as Nuffnang Gliterrati. Hey, my late post about hiding Nuffnang Ads Footer also worked well. *evileyes*
Laporan Percuma Buat Duit dengan Nuffnang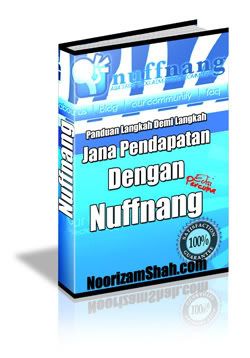 Hey, I also advised you to read this e-book by Noorizam Shah. He has released an e-book which is "Laporan Percuma Buat Duit dengan Nuffnang".  I would really advising you to read this e-book espcially for the newbie. In this e-book, it will show you how to intergrate with Nuffnang in a better way. Just sign up for the mailing list to get the download link. Even MajalahIM from Flarebiz team also highly recommend you to read this e-book. So, what you waiting for? Grab it now. Faster dude. You dont want this oppurtunity to fall in other people hand right? Minyak dah naik woi. Haha
So, happy money making in this virtual world!
I wont lie rite? Spread the word !! Nang this post !